Apr 03, 2009 |
Card Making Ideas
One of my favourite card making ideas is to use an ink pad around the edges of the different pieces that make up my card. It softens the edges and blurs the different elements together.
This technique can also be used to create a worn, aged or weathered effect.
It's very easy to do. All you need is a small ink pad. Choose a colour that compliments your design. I will often use brown inks as they suit almost any colour scheme, but any colour will do.
Lightly rub the ink pad along the edges of the piece you have chosen to ink to give an uneven, smudged appearance. Don't worry about making it perfect – the imperfections are what makes this card making idea so effective.
Make sure you allow plenty of time for the ink to dry before you glue anything into place. You don't want to accidentally smudge the ink somewhere you don't want it.
Inking the edges is one of the card making ideas I have used in this card: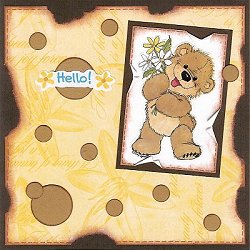 In this card, I inked all the way around the edges of the yellow paper with a brown ink. I then very lightly inked around the edges again with a dark brown ink to give it an almost burnt outline. It created an aged, almost treasure-map like feel to my card.
This card was one of the free card making ideas offered by CardMakingClassroom.com! Card Making Classroom offers free weekly card classes through email. They come with full instructions and are so easy to create.
Anyone can join!