Archives for Creative Card Making category
May 24, 2009 |
Creative Card Making
MaryAnn demonstrates Creative Card Making
Duration : 0:1:15
May 06, 2009 |
Creative Card Making
Video showing my card making process from start to finish by Suzanne Dean; includes ink distressing & flower soft; stamps by Magnolia. www.scrapbitz.blogspot.com
Duration : 0:9:5
Apr 07, 2009 |
Creative Card Making
My creative card making ideas are often inspired by other ideas. For example, in my last blog post I shared with you a teddy bear card idea in order to demonstrate how effective it is to ink around the edges of the different elements of your card. I created an aged, almost treasure-map like feel to my card with some yellow patterned paper and this technique.
Click here to view the Teddy Bear Card.
I have now used the exact same idea for a card to create a completely new and original card. I have replaced the teddy bear with Santa Claus and changed the colours to a Christmas theme. I have also replaced all the small circles with snowflakes for a more festive feel.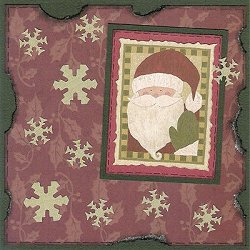 As you can see, I have used the same technique to create my background – a torn piece of patterned paper which has been inked with brown ink all around the edges. Only this time, the darker colours of the card make it appear even more aged and even a little burnt around the edges.
For a really aged effect, I could have also crumpled up the paper before gluing it on.
Creative card making is easy and so much fun. All you need is an idea that you can adapt to suit your own style, personality and tastes. As you can see above, one simple idea like my teddy bear card, can be quickly transformed into something completely unique.
This card was featured in one of the free creative card making classes by CardMakingClassroom.com! Card Making Classroom offers free weekly card classes through email. All come with full instructions and are so easy to tweak to your own designs.
Everyone can join!